About Us
Scoffers is a Burgers takeaway in Hastings. Why don't you try our Chicken Wrap (Large) or Bacon Cheeseburger?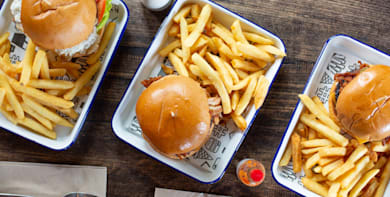 Reviews
157 reviews
Martin
"Missing part of delivery, we phoned through and it was delivered, but obviously 1 person ate separate from the rest of us."
03/07/2020
shaun
"Excellent as usual"
30/06/2020
Simon
"Awsome as usual"
29/06/2020
Richard
"Great food washed down with a cola .thanx"
20/06/2020
Menu
Garlic Bread with Cheese (4 Pieces)
£3.90
Garlic Mushrooms (10 Pieces)
£3.60
Potato Wedges
Choice of dip
£2.50
Triple Burger
3 x Quarter pounder
£7.00
Triple Cheeseburger
3 x Quarter pounder
£7.20
Triple Bacon Cheeseburger
3 x Quarter pounder
£8.00
Scoffers Special
6oz chicken fillet, quarter pounder burger, bacon, salami & cheese
£8.50
Cheeseburger & Chips Half Pounder
£6.10
Cheeseburger & Chips Quarter Pounder
£5.10
Bacon Burger Half Pounder
£7.00
Bacon Burger Quarter Pounder
£6.00
Bacon Cheeseburger Half Pounder
£7.20
Bacon Cheeseburger Quarter Pounder
£6.10
Burger & Chips Half Pounder
£6.00
Burger & Chips Quarter Pounder
£5.00
Chicken Fillet Burger - Quarter Pounder
6oz marinated fillet of chicken
£5.40
Chicken Fillet Burger with Cheese - Quarter Pounder
£5.50
Hawaiian Burger Half Pounder
£6.40
Hawaiian Burger Quarter Pounder
£5.30
Hawaiian Cheeseburger Half Pounder
£6.50
Hawaiian Cheeseburger Quarter Pounder
£5.40
Chicken Fillet Burger with Bacon & Cheese - Quarter Pounder
6oz marinated fillet of chicken
£6.50
Ham & Mushroom 09''
Cheese, tomato, mushrooms & ham
£7.50
Ham & Mushroom 12''
Cheese, tomato, mushrooms & ham
£9.50
Hawaiian 09''
Cheese, tomato, ham & pineapple
£7.50
Hawaiian 12''
Cheese, tomato, ham & pineapple
£9.50
Chicken & Sweetcorn 09''
Cheese, tomato, chicken & sweetcorn
£7.50
Chicken & Sweetcorn 12''
Cheese, tomato, chicken & sweetcorn
£9.50
Pepperoni Plus 09''
Cheese, tomato, green peppers, onion & double pepperoni
£7.50
Pepperoni Plus 12''
Cheese, tomato, green peppers, onion & double pepperoni
£9.50
Meat Feast 09''
Cheese, tomato, peppers, beef, chicken & ham
£7.50
Meat Feast 12''
Cheese, tomato, peppers, beef, chicken & ham
£9.50
Spicy Beef 09''
Cheese, tomato, beef & jalapenos
£7.50
Spicy Beef 12''
Cheese, tomato, beef & jalapenos
£9.50
Tropicana 09''
Cheese, tomato, mushrooms, ham & pineapple
£7.50
Tropicana 12''
Cheese, tomato, mushrooms, ham & pineapple
£9.50
Vegetarian 09''
Cheese, tomato, sweetcorn, peppers, onion & mushrooms
£7.50
Vegetarian 12''
Cheese, tomato, sweetcorn, peppers, onion & mushrooms
£9.50
Vegetarian Hot 09''
Cheese, tomato, sweetcorn, peppers, jalapenos, onion & mushrooms
£7.50
Vegetarian Hot 12''
Cheese, tomato, sweetcorn, peppers, jalapenos, onion & mushrooms
£9.50
Rump Steak Kebab Large
Marinated & finely sliced
£8.50
Rump Steak Kebab Regular
Marinated & finely sliced
£5.90
Lamb Shish Kebab Large
Marinated diced lamb on skewer
£8.50
Lamb Shish Kebab Regular
Marinated diced lamb on skewer
£5.90
Chicken Shish Kebab Large
Marinated chicken fillet on skewer
£8.50
Chicken Shish Kebab Regular
Marinated chicken fillet on skewer
£5.90
Mixed Kebab
Choose any two of the above
£8.90
Donner Kebab Large
Seasoned minced lamb
£6.00
Donner Kebab Regular
Seasoned minced lamb
£5.00
Kebab Chicken
Donner*Shish*Chicken*Steak (Rump)
Kebab Donner
Donner*Shish*Chicken*Steak (Rump)
Kebab Shish
Donner*Shish*Chicken*Steak (Rump)
Kebab Steak (Rump)
Donner*Shish*Chicken*Steak (Rump)
Cheesecake
Ask for flavours
£2.50
Chicken Nuggets (10 Pieces) & Chips
£5.20
Quarter Roast Chicken & Chips
£5.80
Hummus in Pitta with Salad
£3.90
Veggie Burger & Chips Large
£5.50
Veggie Burger & Chips Regular
£4.50
Veggie Burger with Cheese & Chips Large
£5.70
Veggie Burger with Cheese & Chips Regular
£4.70
Scampi (10 Pieces) & Chips
£5.50
Chips & Cheese in Pitta with Salad
£4.00
Chips in Pitta with Salad
£2.90
Chips with Cheese Regular
£3.00
Chips, Donner Meat & Salad
£5.90
Chicken Wrap (Large)
Fillets of chicken in a tortilla wrap with a choice of salad & sauce
£8.50
Donner Meat & Chips Wrap (Large)
£6.90
Donner Wrap (Large)
Slices of donner in a tortilla wrap with a choice of salad & sauce
£6.10
Contact Us
Find Us
8 Claremont, Hastings, TN341HA
We deliver to
TN34, TN35, TN37, TN38