About Us
Scoffers is a Burgers takeaway in Hastings. Why don't you try our Chicken Wrap (Large) or Bacon Cheeseburger?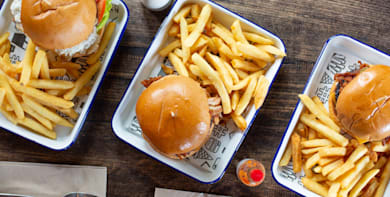 Reviews
187 reviews
Kim
"Lovely food, nice and early, friendly delivery staff"
01/04/2021
Wendy
"It was late but only a bit and it's fine!"
31/03/2021
David
"nice food"
25/03/2021
Graham
"Superb service as ever"
22/03/2021
Menu
Garlic Bread with Cheese (4 Pieces)
£3.90
Garlic Mushrooms (10 Pieces)
£3.60
Potato Wedges
Choice of dip
£2.50
Burger & Chips Quarter Pounder
£5.00
Burger & Chips Half Pounder
£6.00
Cheeseburger & Chips Quarter Pounder
£5.10
Cheeseburger & Chips Half Pounder
£6.10
Chicken Fillet Burger - Quarter Pounder
6oz marinated fillet of chicken
£5.40
Chicken Fillet Burger with Cheese - Quarter Pounder
£5.50
Chicken Fillet Burger with Bacon & Cheese - Quarter Pounder
6oz marinated fillet of chicken
£6.50
Bacon Burger Quarter Pounder
£6.00
Bacon Burger Half Pounder
£7.00
Bacon Cheeseburger Quarter Pounder
£6.10
Bacon Cheeseburger Half Pounder
£7.20
Hawaiian Burger Quarter Pounder
£5.30
Hawaiian Burger Half Pounder
£6.40
Hawaiian Cheeseburger Quarter Pounder
£5.40
Hawaiian Cheeseburger Half Pounder
£6.50
Triple Burger
3 x Quarter pounder
£7.00
Triple Cheeseburger
3 x Quarter pounder
£7.20
Triple Bacon Cheeseburger
3 x Quarter pounder
£8.00
Scoffers Special
6oz chicken fillet, quarter pounder burger, bacon, salami & cheese
£8.50
Donner Kebab Regular
Seasoned minced lamb
£5.00
Donner Kebab Large
Seasoned minced lamb
£6.00
Lamb Shish Kebab Regular
Marinated diced lamb on skewer
£5.90
Lamb Shish Kebab Large
Marinated diced lamb on skewer
£8.50
Chicken Shish Kebab Regular
Marinated chicken fillet on skewer
£5.90
Chicken Shish Kebab Large
Marinated chicken fillet on skewer
£8.50
Rump Steak Kebab Regular
Marinated & finely sliced
£5.90
Rump Steak Kebab Large
Marinated & finely sliced
£8.50
Mixed Kebab
Choose any two of the above
£8.90
Donner Wrap (Large)
Slices of donner in a tortilla wrap with a choice of salad & sauce
£6.10
Chicken Wrap (Large)
Fillets of chicken in a tortilla wrap with a choice of salad & sauce
£8.50
Donner Meat & Chips Wrap (Large)
£6.90
Scampi (10 Pieces) & Chips
£5.50
Chicken Nuggets (10 Pieces) & Chips
£5.20
Quarter Roast Chicken & Chips
£5.80
Veggie Burger & Chips Regular
£4.50
Veggie Burger & Chips Large
£5.50
Veggie Burger with Cheese & Chips Regular
£4.70
Veggie Burger with Cheese & Chips Large
£5.70
Hummus in Pitta with Salad
£3.90
Tropicana 09''
Cheese, tomato, mushrooms, ham & pineapple
£7.50
Tropicana 12''
Cheese, tomato, mushrooms, ham & pineapple
£9.50
Pepperoni Plus 09''
Cheese, tomato, green peppers, onion & double pepperoni
£7.50
Pepperoni Plus 12''
Cheese, tomato, green peppers, onion & double pepperoni
£9.50
Ham & Mushroom 09''
Cheese, tomato, mushrooms & ham
£7.50
Ham & Mushroom 12''
Cheese, tomato, mushrooms & ham
£9.50
Meat Feast 09''
Cheese, tomato, peppers, beef, chicken & ham
£7.50
Meat Feast 12''
Cheese, tomato, peppers, beef, chicken & ham
£9.50
Vegetarian 09''
Cheese, tomato, sweetcorn, peppers, onion & mushrooms
£7.50
Vegetarian 12''
Cheese, tomato, sweetcorn, peppers, onion & mushrooms
£9.50
Vegetarian Hot 09''
Cheese, tomato, sweetcorn, peppers, jalapenos, onion & mushrooms
£7.50
Vegetarian Hot 12''
Cheese, tomato, sweetcorn, peppers, jalapenos, onion & mushrooms
£9.50
Spicy Beef 09''
Cheese, tomato, beef & jalapenos
£7.50
Spicy Beef 12''
Cheese, tomato, beef & jalapenos
£9.50
Chicken & Sweetcorn 09''
Cheese, tomato, chicken & sweetcorn
£7.50
Chicken & Sweetcorn 12''
Cheese, tomato, chicken & sweetcorn
£9.50
Hawaiian 09''
Cheese, tomato, ham & pineapple
£7.50
Hawaiian 12''
Cheese, tomato, ham & pineapple
£9.50
Chips with Cheese Regular
£3.00
Chips in Pitta with Salad
£2.90
Chips & Cheese in Pitta with Salad
£4.00
Chips, Donner Meat & Salad
£5.90
Cheesecake
Ask for flavours
£2.50
Contact Us
Find Us
8 Claremont, Hastings, TN341HA
We deliver to
TN34, TN35, TN37, TN38